Adventures on a single page
A downloadable adventures pack
Get this adventures pack and 2 more for 10.00€ EUR
View bundle
Exploration, brawls, zombies, a heist in a thieves' school, kobolds making ice cream...
these good-natured adventures overflow with twists and turns but fit on one page.
These adventures were written and illustrated by Jan Van Houten, edited and laid out by Nicolas Folliot. They are compatible with your favorite TTRPG, but if you want to take the opportunity to discover a new one, there's Sodalitas, a tiny tabletop roleplaying game to play for an hour or so with too many young players.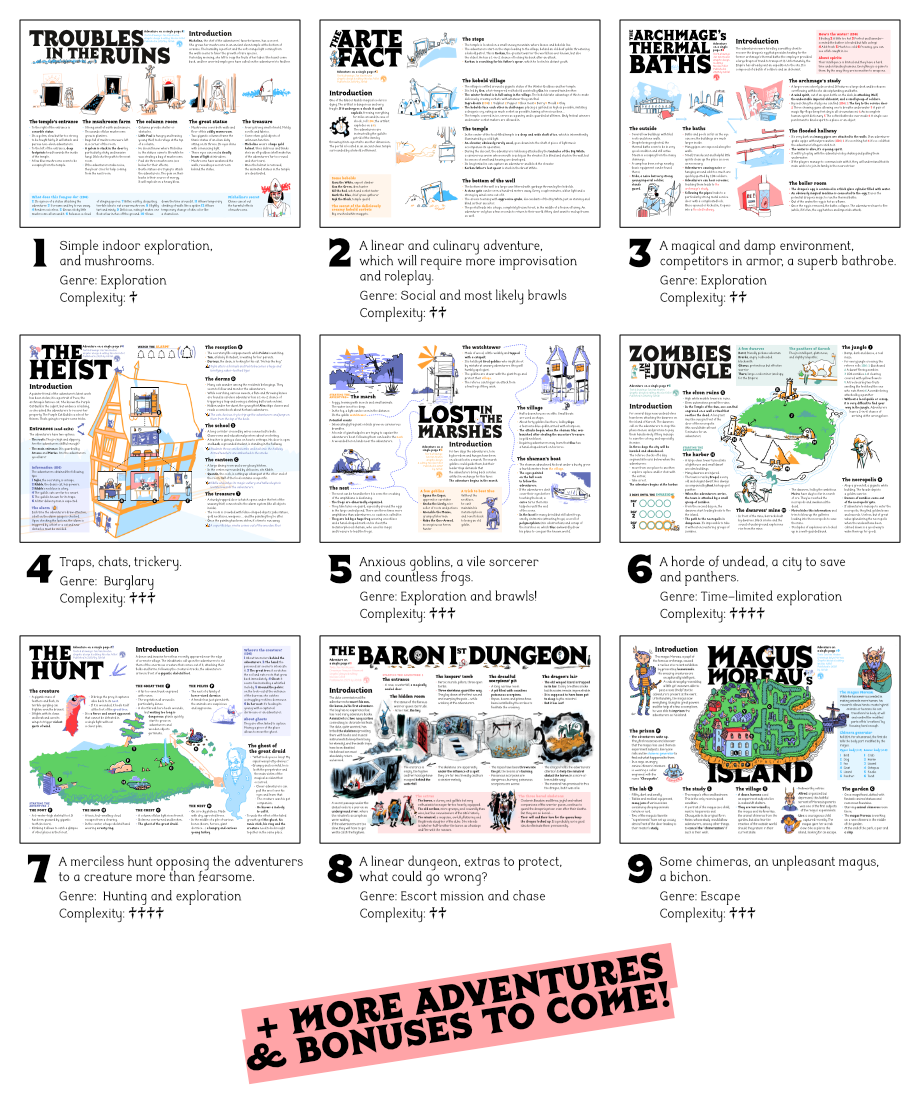 At first there were only 6 adventures, but the collection is growing over the weeks:
Random bonus additions, adventures and/or game aids, under the inspiration and pencil of Jan Van Houten (like the adventure #7, The Hunt);
Adventures illustrated by guests from a wide variety of styles and backgrounds: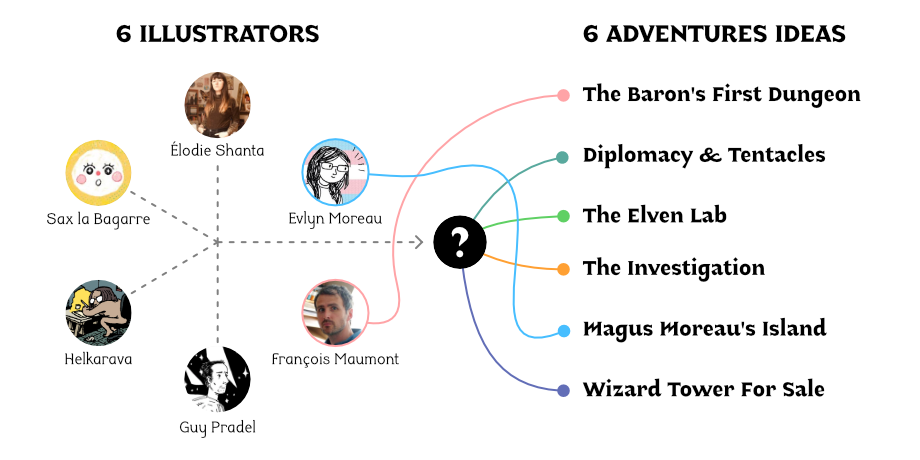 The more successful the adventure series is, the more new episodes it generates! We have to pay the drawing experts we want to invite to highlight the scenarios imagined by Jan Van Houten, so we offer a progressive financing system that encourages the early fans:

One of the 6 adventures illustrated by a guest appears each time we reach a new €200 level of profits. How is this level calculated? By adding French + English sales + Adventures on a single page & Sodalitas bundle;
The collection price, which started at €6, increases by €1 for each new episode (excluding bonus). This means that the sooner you follow us in the adventures, the less it will have cost you (in the end, for early buyers, €6 for a potential series of 12 adventures + 1D6 bonus).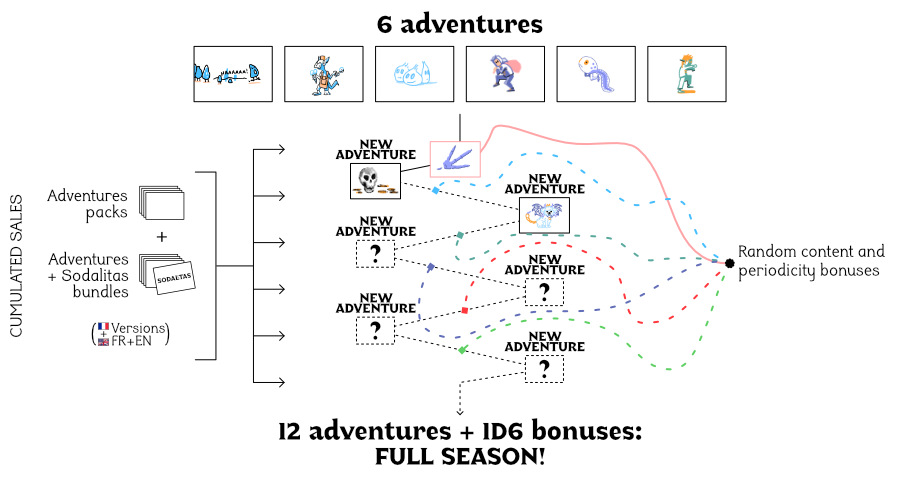 Are you an educator?
These adventures as well as the game Sodalitas have been designed for you, and we want you to be able to get as many children as possible playing, so for you it's free if you want it! Just send a message to aventures-sodalitas@jdrlab.fr to introduce yourself.
This project was born out of a french "Dungeons for Beginners" jam and my need to find simple, "good-natured" and short play material for a TTRPG club. Our sessions are 55 minutes long, I regularly have 7/8 players at the table, and the D-Start box is not inexhaustible. I warmly thank:
My partner who had the good idea to offer me a graphic tablet, and shows exemplary patience when I have to choose between two images only three pixels apart;
People of Twitter and the cestpasdujdr Discord. In particular Côme Martin and Martin Lefebvre for their in-depth review and advice on Sodalitas;
Pupils and their over-enthusiastic reception of my goofy ideas.
One last word on fonts
These adventures were laid out using two free fonts:
Purchase
Get this adventures pack and 2 more for 10.00€ EUR
View bundle
In order to download this adventures pack you must purchase it at or above the minimum price of 8.00€ EUR. You will get access to the following files:
Adventures on a single page 1 to 9
9 MB
Adventure on a single page #2: The Artefact
445 kB
Adventure on a single page #3: The Archmage's Thermal Baths
541 kB
Adventure on a single page #4: The Heist
833 kB
Adventure on a single page #5: Lost in the Marshes
520 kB
Adventure on a single page #6: Zombies in the Jungle
593 kB
Adventure on a single page #7: The Hunt
507 kB
Adventure on a single page #8: The Baron's First Dungeon
4 MB
Adventure on a single page #9: Magus Moreau's Island
2 MB
Download demo