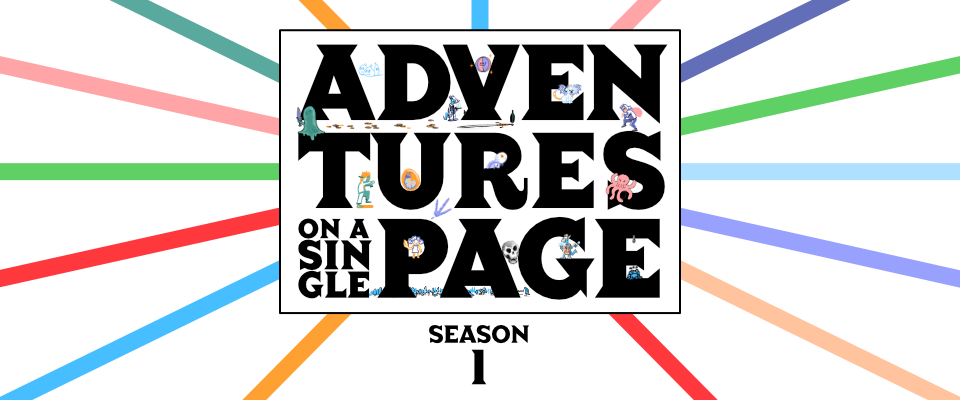 Adventures On A Single Page · Season 1
Comrades, the first season is finally over!
To reward your patience, we have prepared a handful of surprises in this last issue:
A cover, a summary, but also a map and a mini-encyclopedia;
Some small improvements and additional drawings throughout the adventures;
Of course the long awaited adventure #15 illustrated by our last guest Sax la Bagarre: The Game!
And to wrap up, a bonus page with Sodalitas mini, some thanks and some promises…
… because this season 1 being complete, we'll be back soon with new adventures, so thanks again for your support and see you very soon!
Files
Adventures On A Single Page · Season 1
6 MB
Jan 13, 2022
Adventure On A Single Page #1: Troubles in the Ruins
204 kB
Jan 13, 2022
Adventure On A Single Page #2: The Artefact
175 kB
Jan 13, 2022
Adventure On A Single Page #3: The Archmage's Thermal Baths
193 kB
Jan 13, 2022
Adventure On A Single Page #4: The Heist
311 kB
Jan 13, 2022
Adventure On A Single Page #5: Lost in the Marshes
228 kB
Jan 13, 2022
Adventure On A Single Page #6: Zombies in the Jungle
285 kB
Jan 13, 2022
Adventure On A Single Page #7: The Hunt
200 kB
Jan 13, 2022
Adventure On A Single Page #8: The Baron's First Dungeon
1,003 kB
Jan 13, 2022
Adventure On A Single Page #9: Magus Moreau's Island
464 kB
Jan 13, 2022
Adventure On A Single Page #10: The Nest
562 kB
Jan 13, 2022
Adventure On A Single Page #11: Mysteries & Tentacles
244 kB
Jan 13, 2022
Adventure On A Single Page #12: The Elven Temple
306 kB
Jan 13, 2022
Adventure On A Single Page #13: The Inaugural Flight of the Kaiserliche
833 kB
Jan 13, 2022
Adventure On A Single Page #14: Wizard Tower For Sale
595 kB
Jan 13, 2022
Adventure On A Single Page #15: The Game
350 kB
Jan 13, 2022
Get Adventures On A Single Page · Season 1